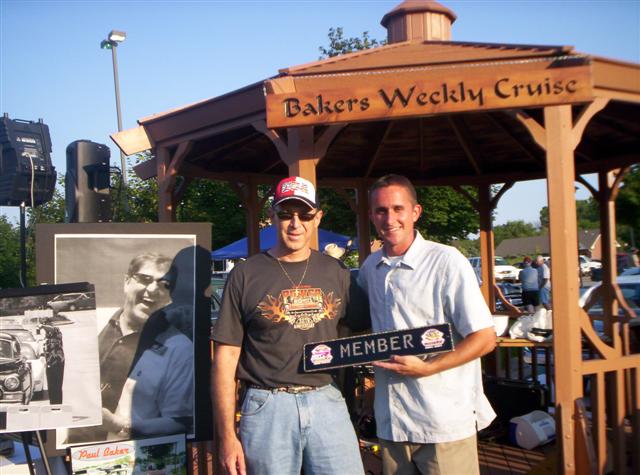 In 1999 I visited my friend Jim Parsons in Milford, Michigan.
He lives barely 3 miles away from Bakers of Milford restaurant,
which hosts a weekly Cruise-in and is grown into the biggest Cruise-in of America.
This Cruise-in is founded by Paul Baker the owner of the restaurant.
The format he uses is being copied by me for the Cruise-in in Kerkrade.
On this picture I hand out our Cruise-in license-plate for our 5 years of cruising in Kerkrade.
Two years ago I already spoke to Chris Baker about "our" Cruise-in.
Eventually I wanted to speak to Paul Baker about his heritage,
but only three weeks before I arrived Paul had a heart-attack
behind the wheel of his car and fataly crashed and didn't survive this accident.
Luckily for all the Cruisers his son has taken the task upon him
to proceed and continue the Bakers Weekly Cruise on Sunday
which attracks a crowd of about 800 to 1000 Cruisers.
The commemorative Cruise-in for Paul Baker drew a crowd of 2000+ .
---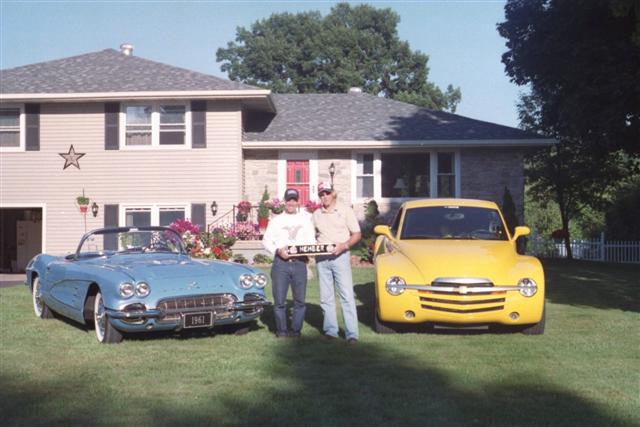 Here I hand out "our" license plate to Dave Clark,
commander of Fort Drum in New York State just 20 miles down from Canada border.
Dave owns as you all can see on the picture a 1961 Chevrolet Corvette,
of which he is the fourth owner and a 2004 Chevrolet SSR.
I met Dave Clark in 2000 on the Army Base at Schinnen where he resided as commander.
With a couple of oldtimers we visited a "Antique weekend" hosted by an organisation of the Army Base.
I overheard an add on a local Radio Station called AFN (American Forces Network),
and contacted them if they still needed some more cars and eventually went with about 8 cars to visit.
At that time Dave drove a 1967 Pontiac Firebird convertible.
He was charmed and surprised to see our nice cars
and at the spot invited us for a bigger party on July 4th that's held every year.
With this invitation came the question if we knew of more classic or antique cars.
The party was visited by approximately 50 cars, so his wish was granted.
After this came his proposal to start a monthly Cruise-in on the Army base at Schinnen
on the parking place in front of Burger King.
So we started this in 2001 and in 2002 Dave was reassigned to another job.
We continued the Cruise-in through 2002 on the Army Base and transferred
the Cruise-in to the Burger King at Kerkrade and "the rest is history in the making".
---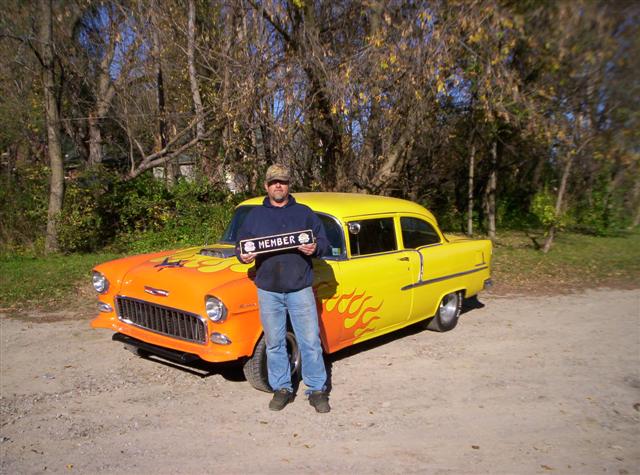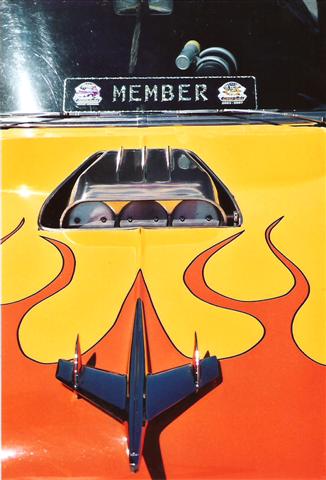 On this picture you see "our" license plate hold by
and in possession of my friend Jim Parsons in Milford Michigan.
Jim owns a 1955 Chevrolet Sedan, 2 doors, which he cherished for more than 20 years.
Under the hood is located a Chevy V8 small block with blower hooked to a manual transmission.
The restauration is done all by himself including the paintjob.
Because Milford is located barely 40 minutes from the Metrocity Detroit
it's understandible that Jim grew up around cars end works on Chevy's from his 12th liveyear.
I met Jim in 1991 as he lived barely 50 yards away from me with his family.
He was still in active duty as a MP on the Army Base at Schinnen.
Back than I drove a 1966 Chevrolet Chevelle Malibu Coupé which I bought in Salt Lake City, Utah.
Because of this car we started talking and a lifetime friendship commenced.
---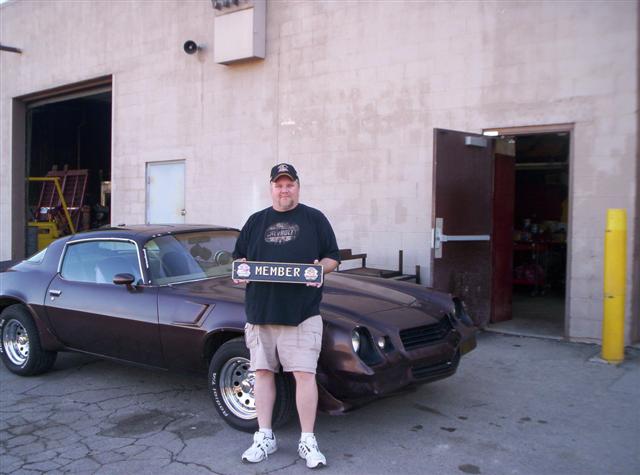 The proud owner of "our" license plate is Marc Ward,
a good friend of Jim Parsons and also collegue.
Here he stands in front of his 1981 Chevrolet Camaro (also proud that he owns this one).
This car is in good condition and only needs a new paintjob.
But because of the many hours of work both gentlemen put in the company
they work for, it's still on hold.
Both of them work for the same company Cougar Contracting Inc. in Wixom, Michigan.
When I visit Jim we always go together to Car-shows and Cruise-ins.
Marc has often been with us on a quest for cars and is a specialist in Ford Mustang.
He knows exactly where to look for the weak spots on the body.
The owner of the company where they both work for is mister Joseph "Cougar" Pejakovich,
and over the years he got infected with the virus too
and recently (last Summer) bought a 1970 Chevrolet Corvette, V8, 350 cubinch and 4 speed manual.
Now that he knows what it takes to maintain a classic,
there probably will be some time in the near future to give the Camaro a new paintjob.
---